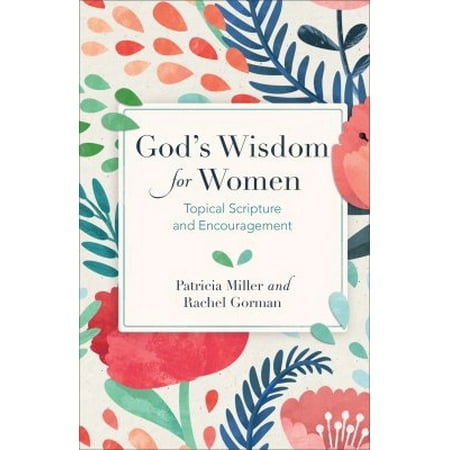 Title: God's Wisdom for Women
Authors: Patricia Miller and Rachel Gorman
Publisher: Baker Books
ISBN: 978-0-8010-1948-7
"Contentment comes from knowing and accepting that God is in control," Patricia Miller and Rachel Gorman write in one of the topics of their book, God's Wisdom for Women: Topical Scripture and Encouragement.

At two-hundred-and-eighty-eight pages, this spiral-bound paperback is for women seeking Biblical support as they experience sadness, longing, and loneliness along with life-altering challenges. Using mainly the English Standard Version of the Holy Bible, also referenced are the GNT, MSG, NASB, NET, NIV, NKJV, and NLT. After a table of contents and introduction, the seven sections are followed by six appendices and notes.
The book's seven chapters cover knowing God, encouragement, lifestyle, daily struggles, relationships, difficult challenges, and sexuality. Each of the fifty-two topics has a title followed by a short paragraph and several description sections that correlate to Bible verses that are written out. Interspersed are quotes from famous people and highlighted anchor icons of hope. There are bullet points of practical living as well as recommended reading at the end.
~Why ~
I appreciate books that search the Scriptures instead of societal norms, and this one geared toward women helps them with struggles and difficulties. The layout of collected topics that cover three to seven pages each are succinct and to the point with Biblical answers for guidance and support. Some random topics are How to Know God, Self-Worth, Social Media, Difficult Memories, Communication, Abortion Recovery, and Marital Sex.
One example is on contentment which is the assurance God is in control. By relying on God no matter what, accepting His control, and knowing He created us, we are reminded contentment is a choice, especially regarding material possessions, even when others have more than us. Verses are from Psalms, Isaiah, Jeremiah, 2 Corinthians, Philippians, Hebrews, and I Timothy. Quotes are by Shauna Niequist and John Piper. Six suggestions to become more content with five recommended readings complete the topic.
~ Why Not ~
Some women may not like all the Bible verses noted, but these are the true crux of going to God and His Word to solve a problem or situation. Others may want more personal stories added, but I feel that would distract from the book being a topical guide that one could locate an issue and quickly read what God says about it.
~ Wish ~
I wish all pronouns of God were capitalized for reverence.
~ Want ~
If you appreciate topical field study guides that are backed up solely with Scripture, this is a great go-to book. However, due to its limitation, it should be read along with the Bible.
I am under no obligation to review this complimentary book.
GRAMMARLY was used to check for errors in this review.