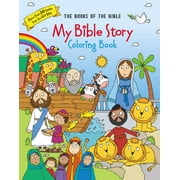 Title:  My Bible Story Coloring Book
Publisher: Zondervan
ISBN: 978-0-310-76106-8
"Color your way through 32 beloved Bible stories," the back jacket states in My Bible Story Coloring Book by Zondervan.
~ What ~
This one-hundred-and-forty-four-page over-sized paperback targets children three to twelve years old who enjoy retold stories from the Bible while coloring matching designs. Using the New International Reader's Version of the Holy Bible, the thirty-two stories from the Old and New Testaments are divided into four sections with eight in each one.
After a table of contents, the two-to-four-page stories are spread over an eight week period so the child can concentrate on the words and color the many designs for that story throughout seven days. The topics include Covenant History, Prophets, Writings, and the New Testament, and range from Noah's ark, King Solomon's riches, Jonah and the large fish, and the valley of dry bones to what is a Proverb, Josiah celebrating Passover, Paul's conversion, and the empty tomb to name a few. With black writing, the illustrations grace the pages with plenty of details.
~ Why ~
Those who love to draw, doodle, or fill in coloring books while focusing on the Bible and its contents will appreciate this coloring book. I like that the stories are simplified but offer the truth. Separating it into four sections of eight weeks each makes the reader not feel rushed to complete the pages. Using thick paper, colored pencils and some gel pens may not bleed through to the other side.
~ Why Not ~
Those who do not have a personal relationship with Christ may not be interested in this type of coloring book. Others may not care for the limited explanations in the stories and its vague plan of eternal salvation.
~ Wish ~
I wish all pronouns of God were capitalized for reverence. Since the New Testament stories are not in order of the Bible, it may confuse some children when trying to look up them in Scriptures.
~ Want ~
If you are looking for a Biblical coloring book that includes thirty-two stories to read while filling in corresponding drawings, this would be a good selection.
Thanks to Z-Blog Squad for this complimentary book that I am freely reviewing.
Grammarly was used to check for errors in this review.