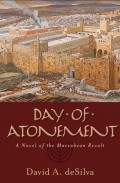 Title: Day of Atonement
Author: David A. deSilva
Publisher: Kregel Publications
ISBN: 978-0-8254-2471-7
"Whether under a Ptolemy or an Antiochus, whether under Honiah or his brother, we will still follow the law of Moses and traditions of our ancestors," Binyamin is reminded in David A. deSilva's novel, Day of Atonement: A Novel of the Maccabean Revolt.
At three hundred and twenty pages, this paperback targets those who enjoy historical fiction of the Maccabean period between the Old and New Testaments of the Holy Bible. Using one profane word several times, topics of abuse, torture, and murder may not be acceptable to immature readers. With a topical map of Israel and an author's note at the beginning of the three-part book, acknowledgments, a helpful list of characters, and the author's biography are at the end.This reader wishes there was consistency in capitalizing all pronouns of God for reverence.
In this story based in Judea leading up to the Maccabean Revolt, one man pines for his brother's position as the high priest while another brother is tempted to shed his Jewish upbringings. Wanting to shape the future of Jerusalem, both are determined to enhance the Temple Mount by blending Jewish and Greek traditions.
As more than one set of siblings deals with the Hellenizing of the new city to be named Antioch-at-Jerusalem, religious sides are chosen as Greek gods and idols are merged into sacred Jewish sacrifices. For political reasons, King Antiochus has to often intervene to enforce necessary changes as the Temple is further desecrated.
Questioning if God has rejected His people, each Jew must decide his or her loyalty to His covenant as Greek soldiers plan to overtake the city. With the Jews realizing they need to turn back to the Almighty, the results offer a possibility for a sequel to the story.
Having over seventy characters and a third of them relevant to the story, the sometimes complicated plot may be overwhelming to some readers. As this reader knows little about the period portrayed, the story's detailed historical account is fictionally engaging. A map of the city of Jerusalem and the Temple Mount during that time would be helpful.
With this being his first novel, author deSilva has written over twenty non-fictional books. His yearning to understand the Apocrypha at a young age led him to serve as trustees' distinguished professor at Ashland Theological Seminary in Ohio. He lives in Florida with his wife and three sons.
Thanks to Kregel Publications for furnishing this complimentary book in exchange for a review based on the reader's honest opinions.
This review will be posted on Kregel Publications, the Book Club Network, DeeperShopping, and Amazon with links on Bookfun.org, Godinterest, Pinterest, and LinkedIn.
GRAMMARLY was used to check for errors in this review.